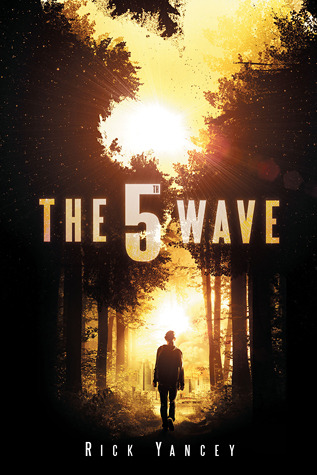 After the 1st wave, only darkness remains. After the 2nd, only the lucky escape. And after the 3rd, only the unlucky survive. After the 4th wave, only one rule applies: trust no one.
Now, it's the dawn of the 5th wave, and on a lonely stretch of highway, Cassie runs from Them. The beings who only look human, who roam the countryside killing anyone they see. Who have scattered Earth's last survivors. To stay alone is to stay alive, Cassie believes, until she meets Evan Walker.
Beguiling and mysterious, Evan Walker may be Cassie's only hope for rescuing her brother—or even saving herself. But Cassie must choose: between trust and despair, between defiance and surrender, between life and death. To give up or to get up.
My Review:
WOW.
Killer aliens, a romance, kids fighting for their lives (but on their own!). A vivid fantasy world was created in this book by Yancey, along with stellar characters.
I'm not even sure what to say about this book. It was amazing. Nothing I expected and better than I could have anticipated.
I really wish it hadn't taken me so long to pick this book up. I had heard lots of hype but never took the time to see for myself. And OMG now I understand why people are going nuts.
Right from the first page, I was hooked. Yancey uses an interesting storytelling technique to describe the events of the previous waves. We learn about them through other scenarios going on and memories and one of the main characters talks to us.
There were also multiple POVs in this book with different chapters. I think this is what really tied the book together and made it what it was. All the characters eventually have a connection and their stories all mix, giving us a complete picture of everything that went on in this post-apocalyptic world.
One of the main characters, Cassie, might be one of my favorite heroins. She was strong, courageous, SMART, and also relate-able. The other characters were also phenomenal and I seriously looked this book.
I need the second book STAT.
5/5 Stars