Looking for a good mystery, historical-fiction? This is definitely for you!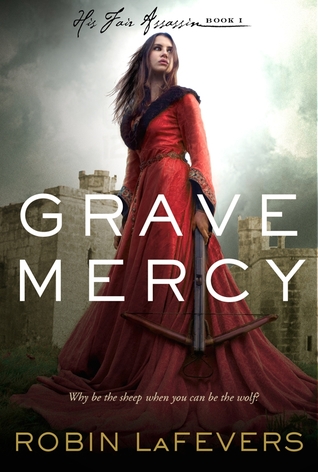 His Fair Assassin #1
Why be the sheep, when you can be the wolf?
Seventeen-year-old Ismae escapes from the brutality of an arranged marriage into the sanctuary of the convent of St. Mortain, where the sisters still serve the gods of old. Here she learns that the god of Death Himself has blessed her with dangerous gifts—and a violent destiny. If she chooses to stay at the convent, she will be trained as an assassin and serve as a handmaiden to Death. To claim her new life, she must destroy the lives of others.
Ismae's most important assignment takes her straight into the high court of Brittany—where she finds herself woefully under prepared—not only for the deadly games of intrigue and treason, but for the impossible choices she must make. For how can she deliver Death's vengeance upon a target who, against her will, has stolen her heart?
My Review:
First of all, I have to say I really enjoyed this book! The concept of there being a school that teaches girls to become assassins and Masters of Death was super cool. I loved the idea that they have to go through training on how to fight and make poisons.
The characters were very likable. The heroine, Ismae, was not a dumb girl who constantly doubted herself and needed a man to care for her. She was strong and courageous, which was good to see in a protagonist. I was rooting for her and her eventual love interest, Duval, the whole time! That romance and sexual tension was a nice addition to the book.
This was also something of a mystery shrouding the castle where Ismae works. I figured out the traitor a little bit earlier than it was figured out in the book, but it was a good journey.
Overall, this was a good, fast paced, action-packed read! The touch of romance and sexual tension made it all the more enjoyable. Definitely will have to keep tabs on this series!
4/5 Stars